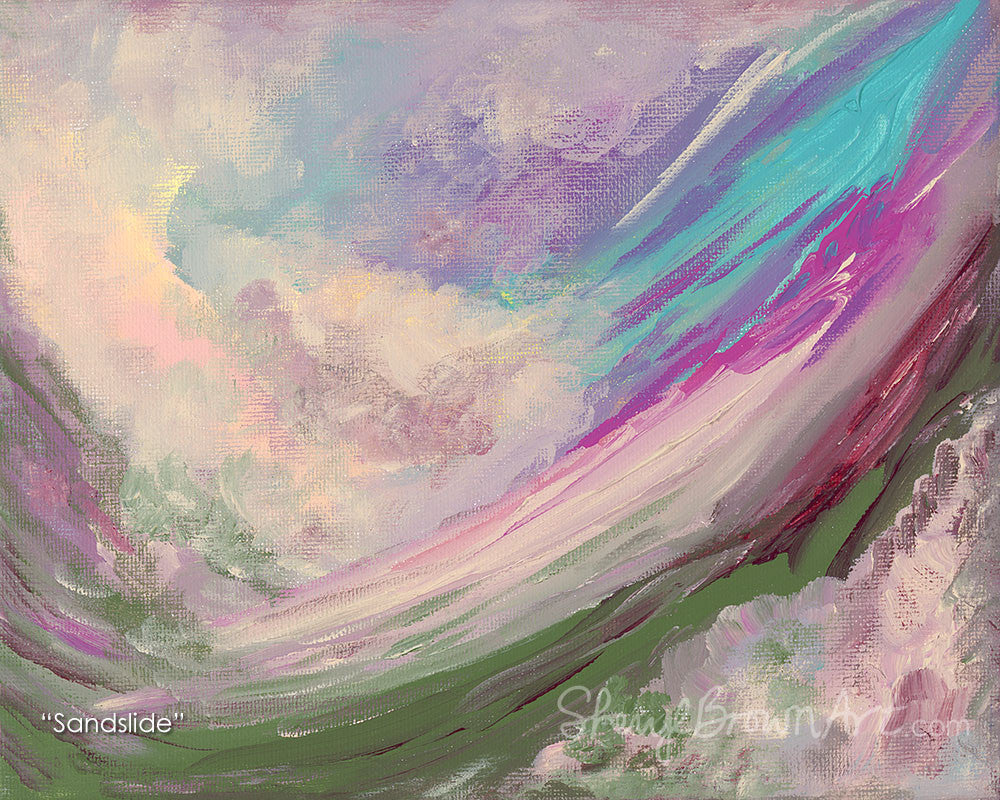 Sandslide
$45.00
"Sandslide" is painted on an 8x10" Canvas with Acrylic paint, in Landscape orientation.
The colors used in this painting include shades of beige, cream, fuchsia, turquoise, grey blue, purple, periwinkle, lavender, dusty rose, rose brown, sage green, avocado green, violet and rust red with hints of creamy yellow and chocolate brown.
This work is available as Fine Art Giclee Reproductions on Paper or Canvas.
And to think all those shades came out of a painting I was attempting to paint in neutral shades, or at least earthier tones. My focus was on mixing the paint, and not trying to create any particular object.
Blending the beige, green, turquoise and fuchsia created the most interesting effects. 
The illusion is like a sloping hill of sand with green growing in the foreground and a rather glorious sky in the background, framing vividly colored and exploding clouds.
Even though this one had not been one of my personal favorites, "Sandslide" is growing on me even now as I describe it, and as I realize the happy surprise of those sunny and thunderous looking clouds.
Clouds are always a favorite thing of mine, so I suppose the love affair was inevitable.
What do you see in this work?