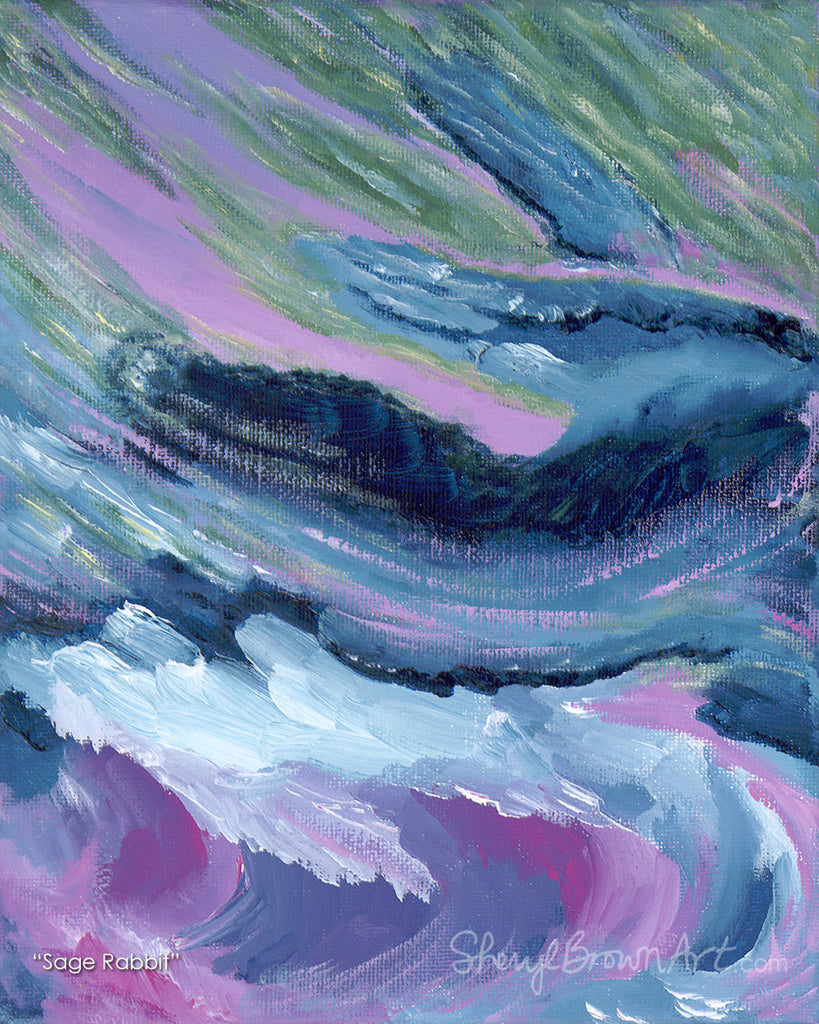 Sage Rabbit
$45.00
"Sage Rabbit" is painted on an 8x10" Canvas with Acrylic paint, in Portrait orientation.
The colors used in this painting include shades of sage green, lavender, pink, fuchsia, violet, midnight blue, dove grey and dark blue grey with generous white highlights and light touches of lemon yellow.
This work is available as a Silk Scarf and as Fine Art Giclee Reproductions on Paper or Canvas.
Another complete surprise in my painting adventure was to see this blue rabbit hopping off the side of the painting after it was done. And the amazing thing is that if you turn this one upside down, you'll see a white rabbit doing the same thing.
It never ceases to amaze me what things show up in abstract work when the artist is just swooshing colors around and minding their own business!
The unexpectedness of this image gives such a playful, whimsical feeling, it makes me laugh out loud. I love how rabbits, in general, bound out of nowhere, covering a lot of ground without preamble or announcement and in spite of a certain time honored reserve.
I also enjoy the unusual way these colors blended.
The green makes me think of a field going by in a blur.
The white is roughly shaped like waves and makes me think of snow, until it's turned upside down and becomes a rabbit in another dimension.
What else might be seen in this painting?