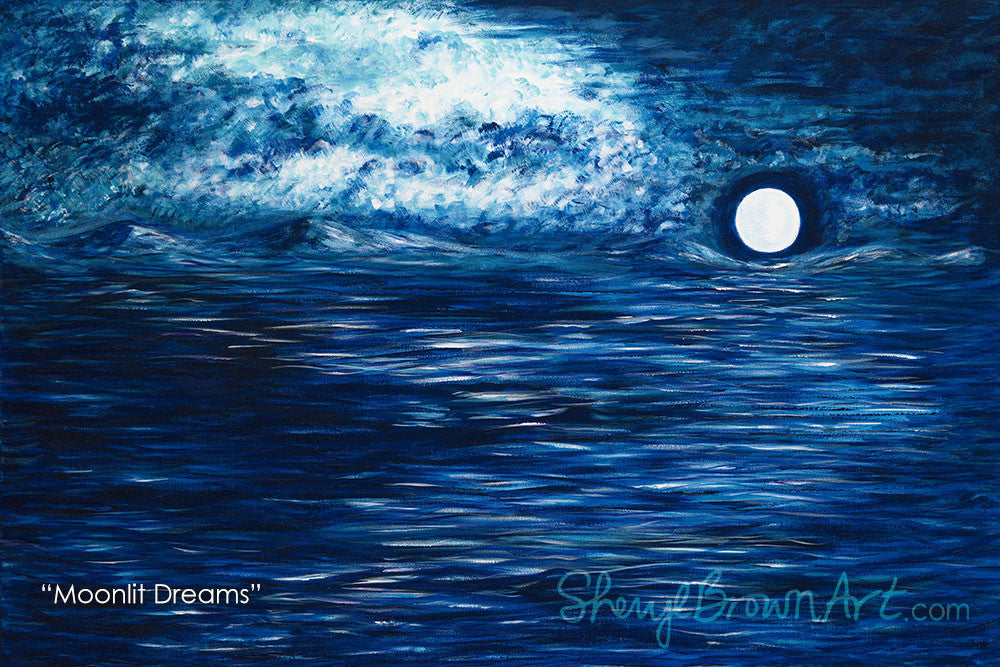 Moonlit Dreams
$375.00
"Moonlit Dreams" is painted on a 24x36" Canvas with Acrylic paint, in Landscape orientation.
The colors used in this painting include shades of deep blue, deep purple, and deep teal with lighter shades of blue, turquoise and white.
This work is available as Fine Art Giclee Reproductions on Paper or Canvas.
The purples and teals in this very large painting could easily be missed in smaller reproduction work. But even in the full size, deep blue predominates in this peaceful night scene.
Bright white clouds have subtle hints of turquoise and lavender puffing over the gently rolling hills which have strongly white lit areas. All is reflected brilliantly off the surface of the deep blue sea.
The largest of full moons graces the sky with the velvet of the deep blue night sky encircling the orb of sheer light. There is a whisper of the moon's craters represented by a subtle wash of palest blue, just enough to show the roundness of this heavenly sphere.
A study in peaceful contrast, "Moonlit Dreams" will light your way all night.