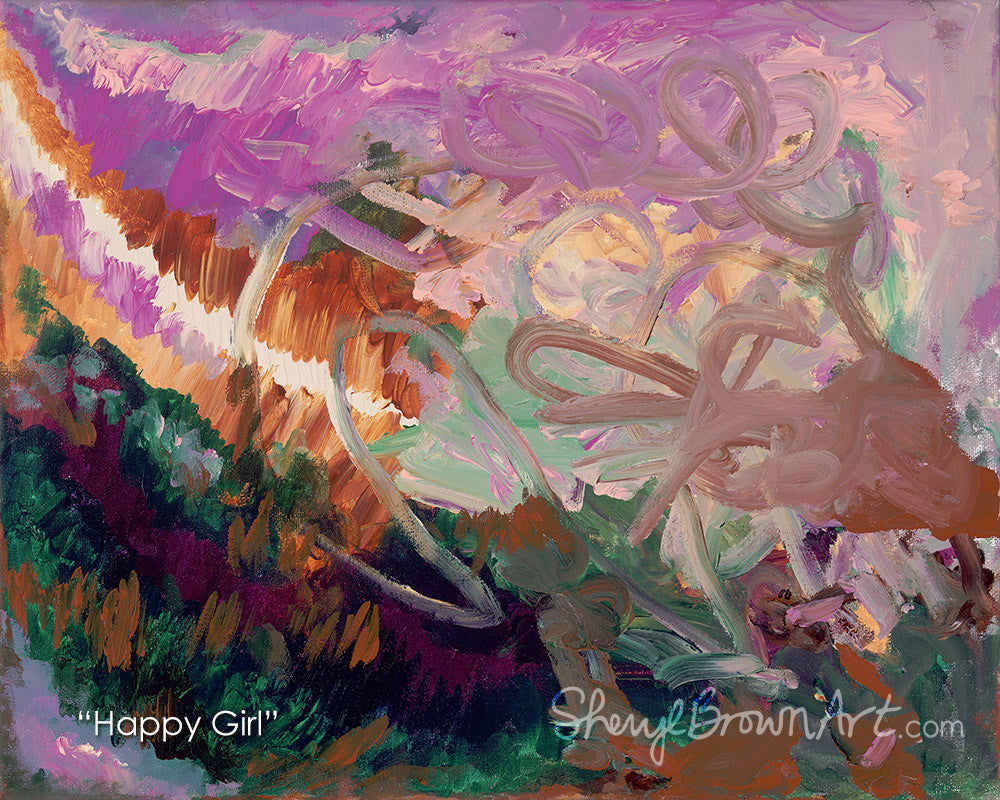 Happy Girl
$200.00
"Happy Girl" is painted on a 16x20" Canvas with Acrylic paint, in Landscape orientation. 
The colors used in this painting include shades of beige, fuchsia, magenta, violet, pink, lavender, periwinkle, gold, sage green, jade green, teal green, purple, grey, putty, golden brown and milk chocolate brown.
This work is available as Fine Art Giclee Reproductions on Paper or Canvas.
Several years ago, when my granddaughter was 4 years old, I pulled out this large canvas and a basket of paint tubes and let her pick the colors one by one. As she painted on one side of me, I used the same color she was using over on the other side, blending her efforts and mine.
When we were done, I asked her what we should call it, and she said, "Happy Girl."
Not too much later, I was looking more closely at her circular strokes and could imagine seeing a few faces in the clockwise loops, one even with a smiley face, which must be random. 
It also seemed that there actually is a girl with a skirt, just like kids draw. The smaller faces seem to represent her younger siblings who were on the way. 
But how could this really be? Whether it was conscious on her part or not, it is still super fun to "see."
Another fun thing is that she looped a big "S" onto my side, as if to sign for me.
What can I say, I have a great imagination!
We had a lot of fun on this whimsical, joint effort, and she still takes pride in the collaboration.