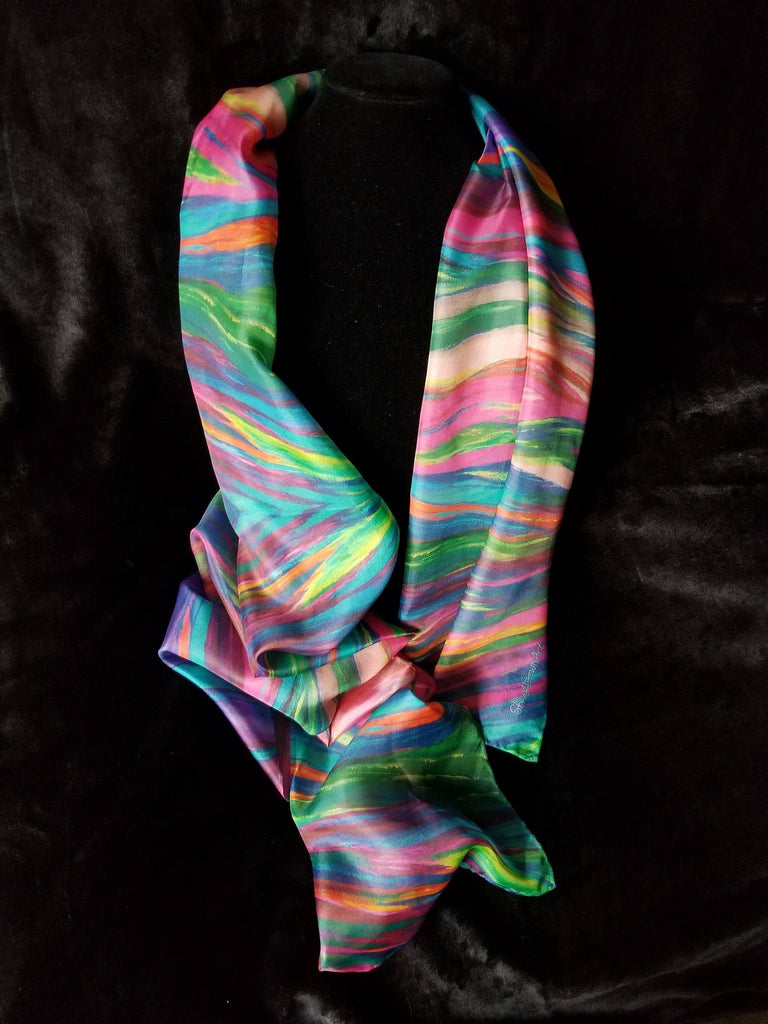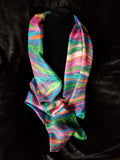 Firecracker Love Scarf
$200.00
"Firecracker Love," the silk scarf is inspired by the Sheryl Brown Art painting of the same name.
Pictured here is the 16x80" size for $200 (
plus applicable sales tax). Sizes are approximate. Shipping within the US is included.
All Sheryl Brown Art silk scarves are printed on soft, fine shimmery Habotai silk and are hand hemmed with love. The designer signature is imprinted right in the design.

"Firecracker Love" is painted on a 16x20" Canvas with Acrylic paint, in Portrait orientation. 
The colors used in this painting include shades of yellow, marigold, orange, fuchsia, turquoise, blue, beige, peach, lavender, purple, sage green, jade green, lime green, violet, magenta and toast brown.
This work is available as a Silk Scarf and as Fine Art Giclee Reproductions on Paper or Canvas.
This painting was started with a bold beige stroke and another bold peach stroke. Green and brown followed, and my thoughts were that I was going to work more with earth tones. Lo and behold how the turquoise, blue, fuchsia and violet worked their way into the creation.
Curving lines and bands made me think of rolling hills. The broad band of yellow represented the sun. And the tiny hints of purple at the top were surely a distant horizon.
What makes this painting special is how it became a prayer. 
All the while painting, I was reminded of friend whose color palette was named "Firecracker Spring." Her red hair, and ice blue eyes embodied those contrasts of deep passion and high reasoning intellect. The painting even reminded me of a blouse she had.
One evening I heard of her concern for the health of her son while I was in the process of applying the finishing touches. At that moment, I realized I was sending love and prayers to her son in the form of my thoughts as I was painting.
Thus the name, "Firecracker Love" was born.
In addition, this is the first painting that made it to silk scarf status! It is available in various sizes and formats.
It continues to be a favorite of many.