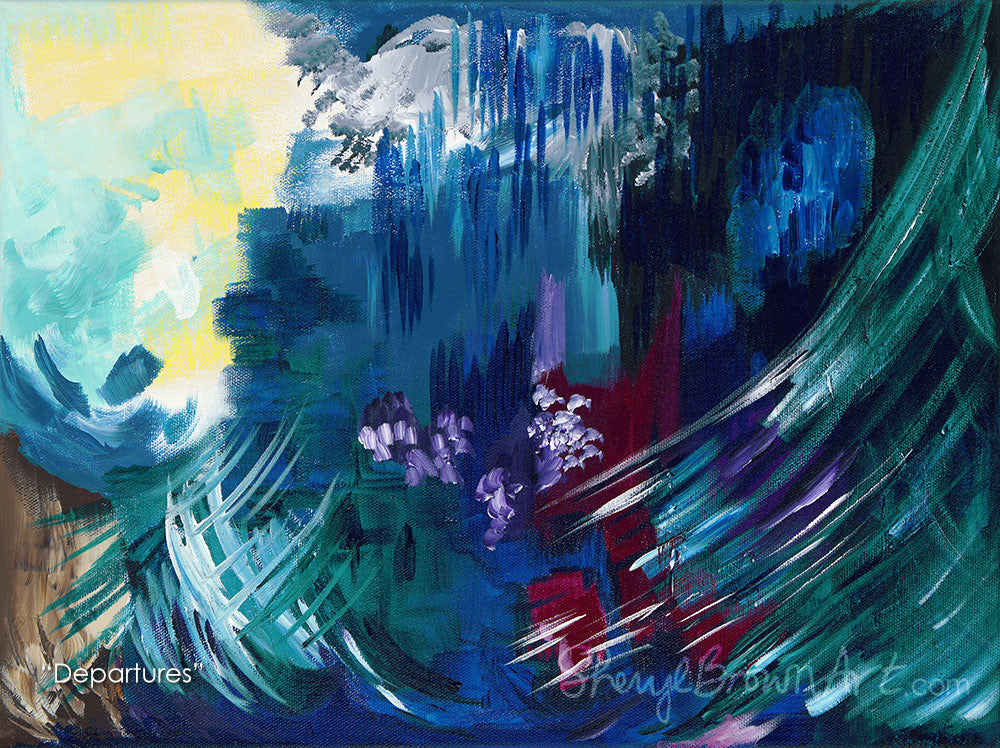 Departures
$45.00
"Departures" is painted on a 12x16" Canvas with Acrylic paint, in Landscape orientation. 
The colors used in this painting include shades of lemon yellow, pale aqua, turquoise, light blue, mid blue, blue grey, brown, tan, lavender, grey, deep blue, deep blue greens, purple, violet and raspberry red with white highlights.
This work is available as Fine Art Giclee Reproductions on Paper or Canvas.
"Departures" was painted quite a long time ago to commemorate the closure of a group that had met regularly with expected, occasional change in membership over the course of a number of years. 
The nature of a group brings an ebb and flow of positive and negative, a diversity of opinions, beliefs and feelings, some strong and supportive, others on the disruptive side. Learning takes place in spite of all.
Each member brought their strengths to bear in their contributions. Honoring the good is a way to say goodbye.
Ironically, even though this work was painted very consciously thinking of each person involved in the group, there is a figure that appears to be exiting the scene that I did not see till after completion.
This is one of my many paintings that received its name much later, after the fact.
The sunny yellow corner may signify the hopefulness of the future, with the swirling colors and darker shades representing the ongoing struggle to make sense of the world and to achieve some sort of unity. There is mystery and solidness amidst the seeming chaos. Bright patches of bold color stand for passion. Powerfully sweeping energy achieves never ending change.
Meanings continue to evolve in this work. It becomes both old and new over and over again. What do you make of it for yourself?