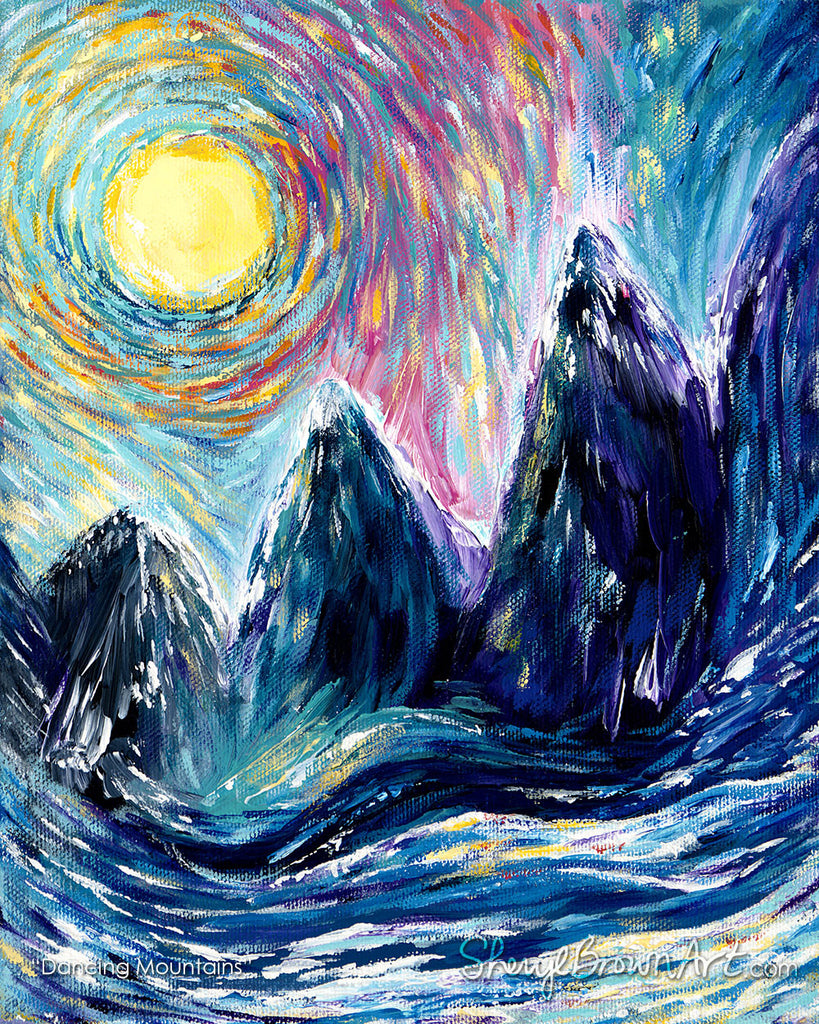 Dancing Mountains
$45.00
"Dancing Mountains" is painted on an 8x10" Canvas with Acrylic paint, in Portrait orientation. 
The colors used in this painting include shades of yellow, marigold, orange, fuchsia, raspberry red, crimson, lavender, periwinkle, deep purple, light blue, mid blue, deep blue, charcoal grey and teal green with bold highlights of white and yellow.
This work is available as Fine Art Giclee Reproductions on Paper or Canvas.
"Dancing Mountains" is a response to the way "Peaks and Valley" turned out. In my mind, I was thinking of happier mountains, so decided to try again. Each painting has its place and together these make a nice pair hanging side by side on the wall.
Whimsical, steep, snow peppered mountains rise up out of a rollicking deep blue, purple, turquoise and white flow of water. The yellow sun is reflected off of the rolling waves. Bright emanations of yellow, fuchsia and robin's egg blue circle the sun and become part of a vibrant blue and lavender multi colored sky.
Super powered and happy, playful energy is condensed and yet overflowing in this relatively small painting.
Perhaps having this hanging on your wall will inspire the completion of your next great work!