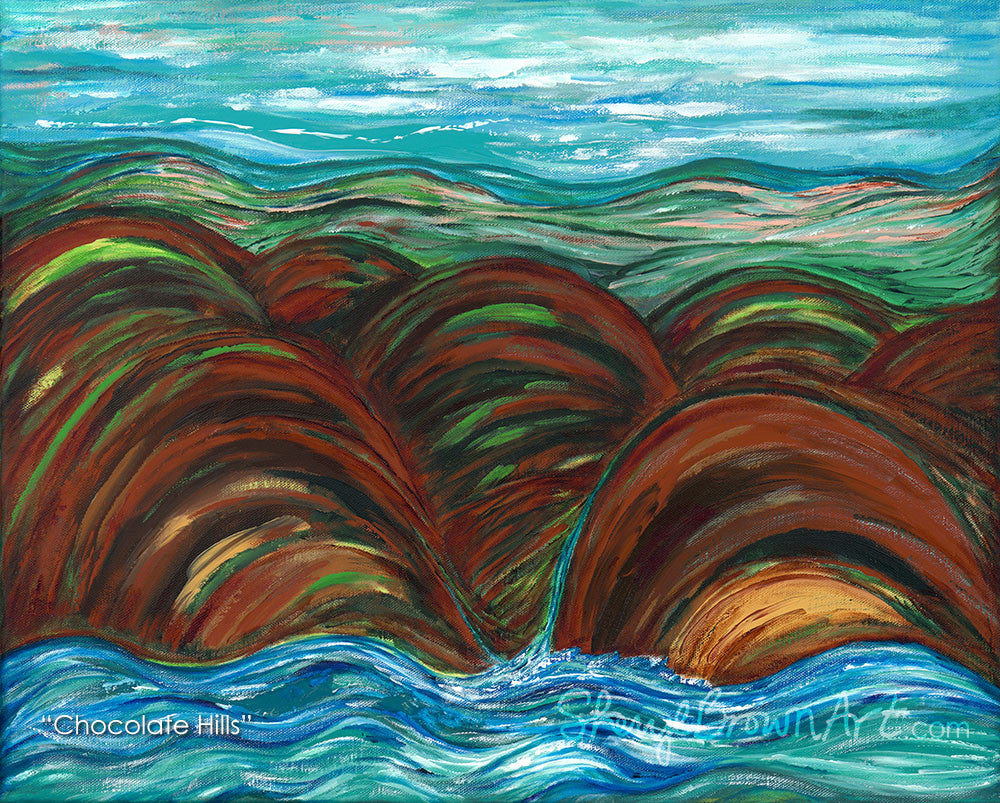 Chocolate Hills
$200.00
"Chocolate Hills" is painted on a 16x20" Canvas with Acrylic paint, in Landscape orientation.

The colors used in this painting include shades of chocolate brown and turquoise with touches of green, gold and white.

This work is available as a Silk Scarf and as Fine Art Giclee Reproductions on Paper or Canvas.

"Chocolate Hills" is another painting that was started by putting a few strokes of paint leftover from a previous painting onto a new canvas . (I never like to wash paint down the drain.)

The canvas sat for several weeks or longer before getting new additions of paint and before developing the personality it now has in its completed state, though it did receive its title early on.

The inspiration for the title came from a postcard I had from the Philippines (back in the 80's) of a real place of the name. The postcard, however, shows very green mountains in those same very round shapes. My painting has similarly rounded shapes, but they are predominantly chocolate brown rather than green, so the title seemed fitting.

Whimsy abounds in this painting, as the tiny turquoise blue waterfall and rolling blue, green and aqua waters below seem to exude a happy, dancing spirit. Even the turquoise sky is playful above the whole scene.

A child would love having this on their bedroom wall.