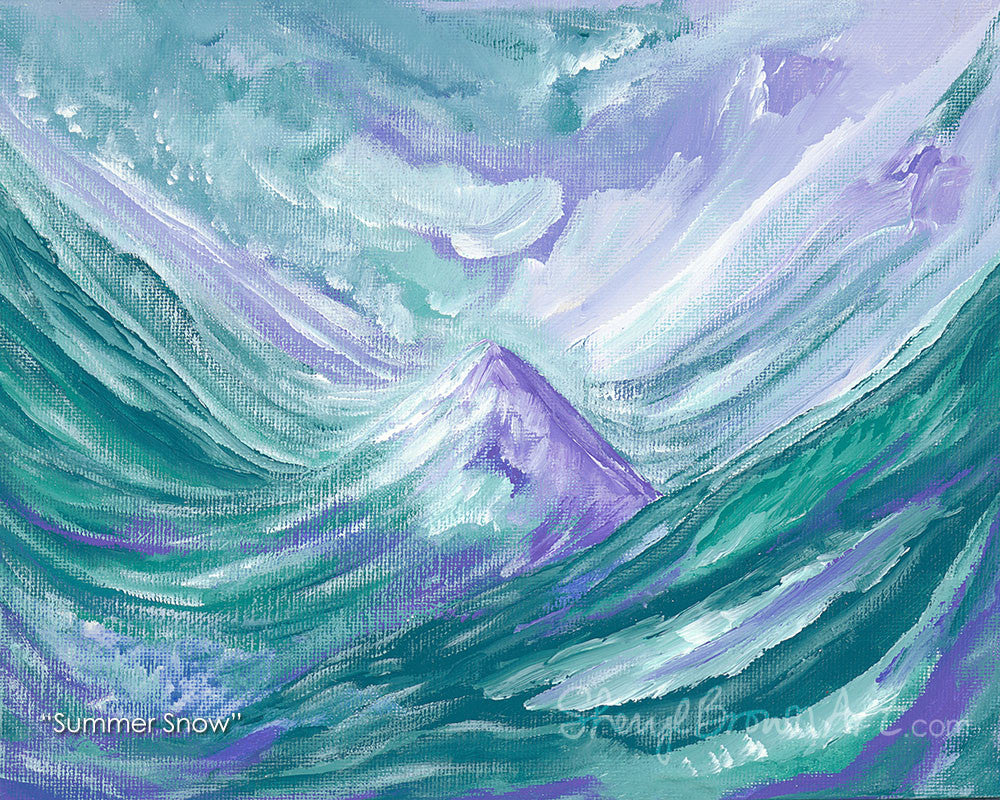 Summer Snow
$45.00
"Summer Snow" is painted on an 8x10" Canvas with Acrylic paint, in Landscape orientation.
The colors used in this painting include shades of grey blue green, pale aqua, turquoise teal, electric lavender, pale lavender, violet and white with a hint of mid blue.
This work is available as Fine Art Giclee Reproductions on Paper or Canvas.
All it took for the submerged mountain peak to make its presence known was a stroke of purple in a sea of turquoise going in the opposite direction to the slope beside it. It has a unique contradictory feeling to it.
This painting made its own way into being without my conscious intention.
There is the look of a bold, yet diminutive mountain peak, standing strong, yet sitting down lower than the rising slopes that dwarf it. In the background through a haze, a similar lavender mountain already has risen, as if in mute witness of what is taking place.
The prevailing turquoise on this canvas speaks of summer, but the white speaks of high mountain tops with snow.
I like to think this expresses the effect of being in the process of rising to one's legitimate lofty place. A process of creation and acknowledgment of value.
The overall effect is very gentle, and yet makes a strong statement.
How does this work affect you? What do you see?